This will be a short little "check-in" on the morning of my trip to Hawaii for the Big Island Writer's Retreat since it's almost 1 am. I finished packing a short while ago and I've been sitting here on my laptop re-reading some of my older blog posts. In fact, my Facebook Memories on September 10th showed TWO separate posts of old blog posts from 9/10/15 http://buildyourownbrave.com/2015/09/10/dealing-because-life-goes-on-ya-know/  and 9/10/16 http://buildyourownbrave.com/2016/09/10/coming-through-the-halfway-point-of-200hour-ytt/  Reading them was a revelation on how far I've come and how much I've grown! First of all, it was the first time that a link for previous blog posts from two different years popped up. Secondly, it made me want to start writing here in this space more regularly, a thing I've been saying since yoga teacher training ended in late October of last year but somehow have yet to accomplish. I believe I set a goal of once a week but have not lived up to it. Perhaps I should commit? Anyway, I digress from what I want to really write about. A concept that came to me the other day when I was thinking about my life (probably on September 10th). The concept of soaring in place.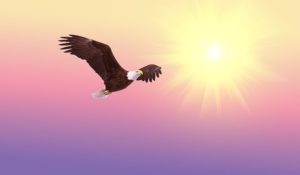 You see, in being reminded of how far I've come, it started me thinking about where I am in my life today. While I still work for the same company, I'm in a better position for myself. While I still attend the same yoga studio, I'm also a teacher there now. I still talk to my spiritual advisor every week, see my kick-ass therapist every other week and attend the Big Island writer's workshops every six to eight weeks. I started thinking how even though I am in a lot of the same places, I'm also soaring. Today I soar away from all that anchors me to my life here to the island of Hawaii to write from my heart, my gut, my soul and wherever else it decides to come from for the next four days.
I've also been approached about providing some of my trauma-sensitive yoga and journaling in a workshop setting next month and yet a different opportunity to speak at a conference in November. All the while new writing venues have opened up for me that I am excited about. Somehow I didn't know I was capable of soaring in place like this. Working and living from an anchor or base, all the while soaring or exploring with my new skills and abilities. Each of these opportunities has come to me quite organically without my having to actively seek them and that feels right to me. I said I wanted to work at my job for the next five years and slowing build my yoga and writing business, not having a clue what that would look like or how to accomplish it. Yet, I believe putting intentions out into the Universe, living from my heart and from God's Will creates an energy and attraction of its own. Thank you for sticking with me on my journey so far. Stay tuned.