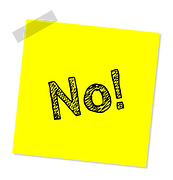 It's been a while I know. I took a much-needed break from my self-assigned goal of posting blogs three times a week since last August. It was about time I started saying no to some things, including myself- for myself if that made any sense. My life had gotten really full and active, even overactive too much of the time. Somehow I managed to work full-time at an extremely stressful, multi-tasking job, write and post a blog three times a week, attend 12-step meetings and yoga classes twice a week, secretary a weekly Sunday meeting, attend monthly board meetings for a community organization I serve, coordinate & facilitate monthly community events for the aforementioned organization, talk weekly with my spiritual advisor, and attend counseling sessions every other week with my kick-ass therapist. I feel like I left out things and I probably did, but you get the point. That doesn't even take into account the social activities I got invited to.
Do you want to hear something funny? Even as I told myself I needed to start saying no and let go of some responsibilities, I signed up to do an online book club with a yoga & hiking coach who had been trained by Martha Beck. Martha Beck's Life Coaching program is one of my top choices and I thought this would be a good opportunity to interact with someone trained in her coaching method. The book club was to occur Wednesday evenings for six weeks starting last week. I paid for the book club and ordered the book from Amazon! Because you know, that's how I say "no" I guess. Ha, ha… Under the category of God doing for me what I cannot do for myself, the book club got canceled and my money refunded! I finally got the message and I am taking steps to simplify my life.
I can't begin to express or convey how overwhelmed I have been with the outpouring of support and love from you all since I asked for help in my blog two weeks ago! Tomorrow morning, or actually later this morning because it's after midnight, is the first of my garage sales. It's actually a combination garage sale/bake sale and I've had so many great items donated to sell. My best friend volunteered to have it at her place and had been using her house as a staging/drop off area. Friends lent their easy-up canopy or stopped by to assist with organizing or to give moral support. This has truly taken on a life of its own since I've asked for help. Seriously, the baked goods that were donated are outstanding and will bring in a pretty penny. We're talking salted caramel or lemon topped individual cheesecakes! I received a generous birthday "gift" in the mail from an angel-friend contributing to my Yoga Teacher Training fund. I've got close to half of my training costs saved and even though life situations continue to come at me, I know I am on the right path. I'm so grateful and I'm so ready.