This is a picture of two different bracelets gifted to me this Christmas from my daughter, Baby Bub and my daughter-in-love, Mary. What is so precious to me about them is they both are about dreams. Mary gave me a wrap-around bracelet that says "Dreams become reality one choice at a time". Baby Bub gave me a silver bangle with a see through charm that has the word "Dream" inside it and written around the border of the charm is "Courage makes dreams possible".  How awesome is it that they both thought of me when they saw the bracelets?  My best friend, Sarah made me a lovely pendant necklace using my granddaughter, Ava's picture she pulled off my Facebook page with the promise to make me a pendant bracelet with baby Charlie's picture as soon I can get one up on Facebook that she can crop as she was able to with Ava's.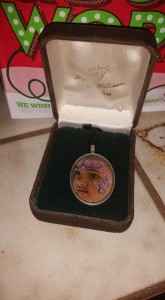 Additionally, Mary knitted me a beautiful slouchy cap, Baby Bub bought me a really pretty matching necklace/earring set and Sarah gifted me a Eucalyptus Spearmint body wash/foam bath, soap and body lotion which provides aromatherapy stress relief. I got movie tickets from a friend I go to movies with and Mary's mother, my badass co-grandmother gifted a beautiful multi-colored scarf, a fun red purse and a beautiful wooden sign for my place. They were all such thoughtful gifts.
The true gifts of this Christmas were being with family and friends that are family! I got to spend Christmas Eve and Christmas morning at both of my best friends' houses with their families. Both are homes I am just as comfortable in as I am in my own where I am part of the family. Christmas afternoon and evening I got to spend it in Pasadena with my oldest son, Charles, daughter-in-love, Mary, the grandbabies and Mary's family. I brought my middle son and he got to be Uncle Lyndon for the afternoon, something he's not able to do often now that he lives in Northern California. This is him and Ava at dinner.
As anticipated, I got to spend time with all three of my grown up children on Christmas. Not all together, but it was great just the same. I spent the most time with Lyndon (Ahbuh) since we were in the car ride to and from Pasadena together, which I thought was fitting because he lives the farthest away. I gained some insight from him about his older brother and myself. Or rather he reminded me of some patterns of behavior I used to exhibit when they were little kids that his older brother now seems to have picked up. It was also jolting and hurtful to hear that he considers our family to be estranged. I argued with him briefly about that, telling him what estranged meant and that wasn't our family. But he firmly told me that he had a different perspective and pointed out times when his older brother wasn't speaking to me, when he himself wasn't speaking to me and that their sister, Baby Bub never calls or keeps in touch with them. Well, that shut me down but good because he's right. Who am I to tell him his perspective is wrong? I was pretty quiet the rest of the ride home. And now that I'm here blogging I do recall I've fretted and talked to my therapist about feeling my family is fractured. So really, what's the difference between estranged and fractured? Turns out not much after looking them up.
So my Christmas ends on a sobering gift of someone else's perspective and truth as I journey home to myself, my heart, and work towards my purpose.