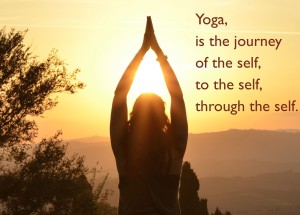 Yoga is a journey of the self, through the self, to the self — The Bhagavad Gita
I finally made it back to yoga class Tuesday night for Moon Yin Yoga. I missed a week and a half because of the flu which stretched into two weeks because I needed to head up to Pasadena last Thursday evening and I signed up to do a 5K walk last Saturday morning. I wanted to attend a class with my teacher before she and several other yogis from the studio left on a 10-day Bali Yoga Retreat. It was a hell of a class as most of her Moon Yin classes are. The full moon was in Libra. There was a lot of sweating, breathing, stretching, holding and even some dancing. It was a homecoming of sorts for me. Or rather a continuing journey home to myself. She mentioned the quote I put at the beginning of this blog and I can't even begin to tell you how much that quote, those words caught my heart.
This journey of mine has many names and labels. A journey to build my brave. A journey of learning to live from my heart, my true self. A journey to live my Mission for Work and Life. Along the way, I encountered Yoga in a big way. I was caught from the very first class, a Moon Yin Yoga class for women only. The teacher was so reverent about fostering an amazing environment of stretching, breathing, connecting to ourselves, to the room at large. The practice of yoga quickly and profoundly became a part of my spiritual growth and progress as a person. I decided to make it a part of my life by committing to training to become a yoga teacher. I've connected to many in the community of my home studio at Bright Yoga as well.
But I had been slacking off about mid-February even before I came down with the flu a few weeks ago. I accomplished the 31 days of yoga every day in January challenge and tried to go back to my 2-3 classes a week afterward. But I was burning out with all of the activity in my life, so I started checking out and easing up on the yoga. When I got sick I didn't want to get the others yogis sick, then there were other obligations. At the same time, I was forgetting to call my spiritual advisor, my 12 step meeting attendance dropped off and I wasn't praying or meditating. This is what's known as a Spiritual lapse or relapse. I am in essence turning away from God, myself and the things that connect me to God and myself.
It was in this space of spiritual lapse that I found myself when that quote resonated in the place where I live. I'm not sure I could have heard it in quite this way anywhere but in yoga class. You see this journey of myself, to myself, through myself had hit a snag. I was stuck in the disconnected, dispirited "self" of me. The self that is fueled by self-doubt and fear so subtle, so pervasive, that it has no voice. It's the part of me that self-sabotages with overeating and overindulging in television watching such as NYPD Blue reruns, NBA basketball, HGTV home improvement shows. The self that avoids her spiritual advisor, yoga classes, prayer and meditation because those bring clarity. Clarity brings awareness and a necessity for some sort of action or correction. Like finally blogging about it and committing to refocusing inward. This weekend I will continue to reconnect with God and myself through yoga, prayer, meditation and 12 step meetings. I'll also reach out to my spiritual advisor to get us on the same page. I feel better and more connected already.