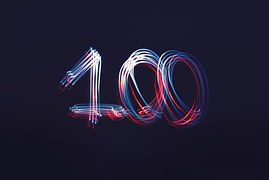 This is my 100th blog post and my mind had been preoccupied on what to say in it. I decided to take the title of all 99 previous blogs and write them as sentences. Sort of like seeing my progression as a woman, a writer, and spiritual being through blog titles.
How Did I Get Here? How Does Your Brave Show Up? Break Your Own Barriers. Disengaging Auto-pilot, Surprisingly NOT A Bumpy Rid. Do You Have Places Of Healing In Your Life? The Best Laid Plans. Gifts Wrapped In Shit… Finding My Blessing Or Lesson. Four Rooms. Showing Up. A Little Something On Strength Or Something Along That Path. My Mouth Wrote a Check and My Ass Is Desperately Trying To Cash It. Looking Back To See Ahead. The Queens From Whence I Came. Unexpected Consequences Of Growth And Clarity. A Checkup From The Neck Up. Dealing… Because Life Goes On Ya Know? Humbly, Gratefully Called To Be. I Get By With A Little Help From My Friends. Getting Through The Blahs. What Is Your Practice, Do You Have One? It's Time To Replace My Old Stories. Am I Right Where I'm Supposed To Be? Where I Live… Shades Of Blue: Writers on Depression, Suicide and Feeling Blue, edited by Amy Ferris. Inevitable Consequences and Unexpected Gifts of Growth. The Urge To Rest, Research & Refocus. Not Just Another Manic Monday. Healers Among Us & Within Us. Spiritual Cleansing. The Importance Of Vision. Random Happenings, Thoughts and Occurrences In The Life… Ghosts Of Grief and Echoes Of Old Patterns. Not Always Rainbows And Butterflies. Permission To Be Imperfect. Caution: Emotional Minefields Ahead. Honoring Body and Spirit. Getting To Know your Worth. On Balance, I'm Actually Good. Letting Go Of Old Ideas. What Are We Attracting Or Drawn To?

Everybody Needs A Little Time Away. Three Trips To Vegas. Serendipity And Synchronicity. That Which Unites Us. The Other 20%. What A Difference. Building My Brave, Discovering My Light. There's Always That One Thing. My Gratitude List. Loved, Connected And Blessed. Breathe, Focus, Follow Through. Victim or Volunteer? What I Know vs. What I Feel. Rewriting Old Stories and Composing New Ones. Limbo And Lag Time. Attention and Intention. Shadows From Light. Social Anxiety and Ornament Insecurity. Why Bother? Truth and Trust. In The Spirit Of Christmas. The Best and True Gifts. Heart Openers. Arriving in Ojai and The New Year. Of Magic & Music & Manifesting. Heart Speak and Letting Go. Back To Life, Back To Reality. Hiding In Plain Sight. The Blessings of Busyness and Balance. Winter Revisited. Finding Direction From Dissatisfaction. I Gotta Say It Was A Good Day. Flat and Discouraged. The Tastes Of Childhood. Slip-sliding and The Most Pressing Thing. Reverb From The Universe and Just This. Accepting and Asking For Help. 31 Days Down, On To A-Z! Aspire To Love Your Light. How To Live And Let Live.

Enjoying The Moment. Flowing and Growing Into Big Dreams. Waking Up On The Wrong Side Of Me. What I Bring To The Table. Gearing Up. My 'Just Another Day' Valentine's Day. Accepting God's Revision. I'm Sick of Being The Grown Up In This House! When 'No Shows' Are Necessary. Who or What is 'Holding Space' For You? To Date or Not To Date, Is That Really The Question? Love and Legacy. Family, It's Never Too Late. Sick And Losing My Way. Disconnect and Separation… Really? Ready To Press Play Again. Spring Awakenings and Energies. Finding Faith In My Stories and My Voice. What's Underneath The Story.
I want to express a heartfelt thank you for all of you who have come along with me on this journey through this phase of my life. Some of you have been here from the very beginning. Some have just recently found your way to my blog. I am so profoundly grateful for all of your love, encouragement, support and feedback. I hope you'll stick with me for the next 100 blogs and beyond.