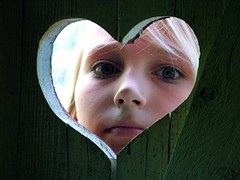 One of the first topics introduced on Thursday at the Yoga Manifestation Retreat in Ojai was about 'being in our bodies' because a lot of us aren't. We ignore our physical body and its needs quite a bit. So we closed our eyes, took deep breaths and settled into ourselves. We were asked to choose the part of our body that was making itself "known" to us either by an issue we'd been having with it or if during our meditation, that part of our body spoke to us. I choose my heart as I know it's what has been fueling my journey through life of late, not always in a healthy way either. The writing prompt or exercise was to write to ourselves as the body part we chose. Hence, I titled my writing exercise " my heart speak". It was a very moving experience to write to myself as my own heart. Especially after some of the heart-opening events of Christmas week surrounding my adult children and facing some of their truths about growing up with me as their mother. The messages were simple and direct, all about being with me, loving me no matter what, it's ok, I'm ok, it's open for me and our life, it is with me always, it's here for others, we are eternal, it's ok to allow, we are love, it's here for me and others. A lot of the messages repeated for emphasis I suppose… After we were told to put our pens down, Jen went around calling on people at random to read out loud which body part they chose and to read what their bodies said to us. As I mentioned in my prior blog, no matter where the person was in the yoga center, she always moved to sit right in front of you and listened fiercely. She chose me and listened to me read "my heart speak" out loud to her and the room. She looked at me thoughtfully, turned to the rest of the room and talked a little about it. She turned back to me and asked what one word  or phrase did I think would manifest what my heart wants for the coming year. I said, "to be open". She nodded and said yes, my mantra is "I am open" or "I am allowing". After choosing a few more attendees to read their writings, we moved on.
After more yoga, music, and tears, we stopped again to drop to our mats for another writing prompt. This one asked, "What do we need to let go of or release to be the mantra that our body wants?" For me, that meant what do I need to let go of to manifest living from an open heart, to allow my life and its events to unfold without fear and isolation. Somehow those answers came easily and I hope that means I am truly ready to release and let go of old stories/tapes, the old "I am's or I'm not's", limitation, self-doubt, self-sabotage, stinkin' thinkin', isolation, old reactions to fear and doubt. One of the many, many things I came away with at the retreat was that it wasn't enough to pull out one part of the equation, like choosing "I am open or allowing" for the coming year. We also wrote about the things that hold us back from the life we want to live.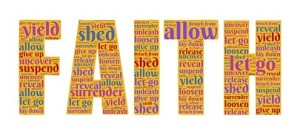 So how's that going so far for me? Hmm, let's see. I committed to my home studio, Bright Yoga's 31 days of Yoga challenge for the month of January. Today is day 4 and after I finish this blog, I plan to do some quiet Yin yoga by the fireplace where I have a cozy little fire going. Sunday morning in the park I borrowed a friend's puppies to make a birthday video for someone's 9-year old nephew! And posted it on Facebook. Those of you that know me well know my old "I am" of I am not an animal person. I've accepted a Board appointment to a local club I belong to as well as assumed the position of Events coordinator for the club. So far I am open and allowing all over the damn place, HA HA! And it feels good! We'll see how good I feel when my alarm goes off at 4:45 am to make a sunrise yoga class at my studio. Yikes, but a good yikes. This is what I want and need for my life. This is what is being offered and presented.