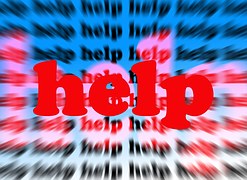 I've got to get better at accepting and asking for help. FOR REAL. It's 10:40 pm Friday night and my house smells deliciously of baking cornbread. It does not smell of chopped onions because I haven't gotten to them yet. I have two pans of cornbread baked and cooling, with two more in the oven. Why am I baking cornbread and procrastinating on chopping onions you wonder? That's because I'm the new head of the Events Committee for a community club and tomorrow is my first official event, the 1st Annual Chili Cook-Off & Tasting!
My girl, Dawny, offered to come over several times to help chop onions. Each time I demurred. I declined. I told her I'd manage. And I will manage, but I'm so damn weary and emotional right now. Its been such a long day and an even longer week. Today one of my closest friends at work retired and I was sad to see her go. I will definitely keep in touch with her and she's throwing a retirement party next weekend. But I was very emotional all day on top of the normal stress of my workday and the end of a long week. I had errands to do throughout the day for the cook-off and I had to stop at a tire shop to get my left front tire repaired because it was flat when I came out from work yesterday.
The tire shop was an adventure in itself. I got there 10 minutes before they closed and they took my keys while I waited in the lobby. About 10 minutes later a technician came up to me stating he couldn't find the keys for my wheel lock and asked if I knew where they were. I had no fucking clue what he was talking about, I was cold, hungry and tired to boot. Not a good combination for me. In any case, I was genuinely confused and cordial. He explained that my tires had wheel locks so no one could steal my rims and he couldn't remove the hub cap without the key. He asked if the dealer where I bought my car mentioned where they would put it in my car. I was even more stumped and still had no clue what he was talking about. I offered to go look in my car with him and had gotten out of my seat to walk out with him when his supervisor told him he was talking to me about the WRONG car. I own a Mazda 3 and he was talking about a Kia Forte. He apologized to me and said it's been a long day. I told him I completely understood and went back to my seat hoping my tire was an easy, inexpensive fix or repair. 40 minutes after that they were done with my car. The supervisor that corrected the technician earlier was giving me back my keys and told me they put the correct air pressure in all my tires but they were all bald so I would need new ones. My heart sank while he ran outside to verify my tire size for a price quote. However, he returned embarrassed and assured me my tire treads were fine. It seems he confused my Mazda with a Volvo. Lord have mercy it's been a long day and week for a lot of folks. There was no charge for their service so I headed home.
The reason why I brought up my tire issue is because my job is over 40 miles from where I live. Yesterday I drove on my flat tire to the nearest gas station by my work and put air in the tire, then drove it home. After posting a picture of the tire on Facebook of course. Later after I'd been home for a while, a brother, Daniel from my 12 step community offered on Facebook to come over to my house to put my spare tire on for me. I refused like an idiot. It clearly would have been safer. Oh, and the onions for the cook-off? They're still not cut and they're not getting cut tonight. I'll do it in the morning. Why is it so hard for me to accept and ask for help? I don't know but I do know I can't keep throwing events on a monthly basis with just me and Dawny. She's got even more stuff than me going on.
What's the lesson and plan going forward? Announce at meetings that we'd like some volunteers for the Events Committee. And the next time someone OFFERS to help and I need it, I will accept it. Especially where my safety is concerned. Most importantly, remember to take care of myself and not let myself get too hungry or tired. Such simple lessons, such a simple plan.