Hmm, I'm under a little time crunch here, which is new for me and this blog. It's 5:55 am and I have the kitchen to myself for now. No one is up yet. The kitchen is in the main house of the Ojai Eco-Sanctuary where Jen Pastiloff's New Year's Retreat is held. I am a guest in the yurt, which is quite a hike away from the main house, which is a very cool thing. It's a beautiful hike by daylight and especially by moonlight, which is how I arrived here in the kitchen this morning. There is magic here. The magic that started for me earlier this year with Jen Pastiloff over Facebook, of all places. So really, a more accurate statement is, the magic continues!
This blog topic is about more than just arriving in Ojai and The New Year. It's about God and the Universe continually bringing me to people, places and things that help me find my authentic self and continue my journey to my heart. My journey to "heart" living. The opening circle was amazing. A chance to open ourselves to vulnerability. A chance to write and state what we are manifesting for the coming year. A chance to change our minds about that if we want. A chance to provide the gift of listening fiercely to others. A chance to trust another with your written manifestations, forever. A chance to beauty hunt.
I love Facebook and what I am building it to be for me. FOR ME. It's been a true place of connection with phenomenal people and pages out there. Not just Jen Pastiloff, although she was the first to reach back to me in a meaningful way. Which gave me the courage to reach out to Becky Vollmer of You Are Not Stuck and Ellie Hodges of Emergent Life. Two fabulous women with incredible messages to offer the world, to offer me, which they have on a personal level. So, I bring up Facebook, because it fairly recently started 'On This Day' memory posts that show you what you posted in previous years on that exact date. Today a New Year's meme showed up in my Facebook memory. This one ——>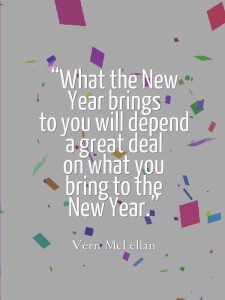 I wrote above the meme that "I am bringing my gifts, my enthusiasm and willingness to discover into 2015! What will you bring to your new year?" The funny thing is until I saw that pop up in my newsfeed at 4:45 am while I was snuggled in my cot in the yurt, I'd forgotten I'd ever written that. But look at how much of that came true! So I really didn't forget, deep down where my authentic self lives. And really, once again, it goes back to God and the Universe helping me live up to the intentions I set for myself last year. How's that for magic?
So this blog will be short and sweet as I've only been in Ojai for half a day. There is a full day on the slate for New Year's Eve and to ring in the New Year. Then there is a half a day for Friday, January 1st, 2016. I can't wait to bring my gifts, enthusiam and willingness to the final days of 2015 so I can tell you about the magic that helps create… Until Saturday's post, I hope you ring in the New Year safely, in whatever manner you choose. Namaste and much love from Ojai.