A REVIEW AND A BIT OF MY PERSONAL EXPERIENCE ON THE SUBJECT
http://www.amazon.com/Shades-Blue-Writers-Depression-Suicide-ebook/dp/B012277YIO/ref=zg_bs_tab_pd_bsnr_2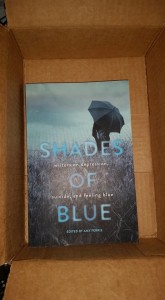 How expansive and amazing my life is becoming. This is the first nonfiction book I've read in I can't even remember how long and I am humbly grateful and honored to have read it. On the surface, it would seem that a book with stories on these weighty subjects may be depressing, discouraging and dark. I know quite a bit about depression, feeling blue, addiction, and alcoholism. I didn't count on the immediate recognition of empathy and identification with editor Amy Ferris' introduction: The Balls-out Truth About Depression. I didn't expect to be so sucked into the stories of struggle, despair, loss, renewal, irony, acceptance, amusement and hope. Yes, amusement. I surprised myself at how a select few of the stories made me laugh out loud as with the tragically absurd rock bottom point of Samantha White's: The Dialectics of Suicide. Or haunted, absolutely haunted by Jimmy Camp's: A Slip Of The Noose and Jenna Stone's: Upon Being Told To Be True To Myself.  The order of the stories is quite perfect, ending with the absolutely attainable and sustainable hope written about in Pam L. Houston's: A Kind Of Quiet Most People Have Forgotten.
I've read that this book was conceived in the wake of Robin Williams' suicide, even in response to it. It's an important book that sheds much-needed light on the lingering stigma of depression, suicide, mental illness and feeling blue. The reading of it for me was like experiencing the combination of a 12 step speaker meeting and group therapy.
I haven't read any books in quite some time. This is because the books I used to read, or more accurately re-read were familiar themed romance novels. Time traveling Highland Scottish romance, Cowboy romance and Regency era romances were my preferential escape for years. If I ventured from that genre, it wasn't very far and it was always fiction. I really never wanted any part of non-fiction, interesting biographies or New York Times important bestsellers.
Ah, but then you see, my spiritual and personal growth began to pervade all areas of my life. I had no interest in any of my usual romance books so I gave away 95% of them in the recent move to my new home. This laptop, my blog, the welcoming community of writers, spiritual leaders and coaches on Facebook are what fuel me now. Somehow it started with the beautiful light and love that is Jennifer Pastiloff– the yoga teacher, writer, facilitator of retreats and workshops on manifestation. I still can't recall exactly how I came across her page or exactly why I started watching her videos when it was not in my nature to pay attention to those things on Facebook before. But her light, her energy, her magic caught me, encouraged me and challenged me from the very start. Her story in this book, Someday This Pain May Be Useful is so honest and vulnerable. Through her and her phenomenal online community of beauty hunters, writers, yogis, and editors, I came across the amazing Amy Ferris– Editor extraordinaire and fantastic writer in her own right. I'd seen Jennifer post that she was proud to be a part of the community of writers attached to Shades Of Blue a while back, put I wasn't sure what it was about. I know now and I am better for it.
I have personally lived through some very dark episodes at various points in my life, dragging my poor helpless children and a clueless young husband with me at times. Soon I will have an essay of my own published on Jennifer Pastiloff's website The Manifest-Station that covers some of the subject matter in this book. These stories are authentic, with real life solutions, conclusions, endings and hard fought new beginnings. It's well worth the price and the time. I urge you to check out the link at the top of this blog. Buy a book, expand your knowledge of important subjects brought to light.