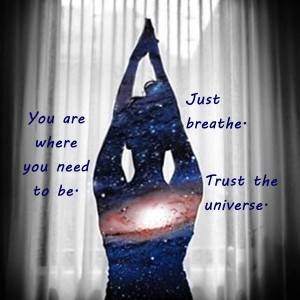 This Sunday I needed to drive Baby Bub 65 miles up the coast to Dana Point so she could catch a ferry boat to Catalina Island. I'd gotten paid Friday and planned to pay my bills. I had finally designated this weekend as the one where I would decorate my new place, put up pictures, find a new clock and area rug for the dining room, put away the last of the "stuff" that needs to go into our outdoor storage room. I'd planned to hike a local trail with a new friend in town BEFORE Saturday morning Yoga class. My car was more than 2000 miles overdue for an oil change.
I had a half day off from work Friday and headed to one of the local malls to do an errand I had planned for Thursday. Anyone see where this is going with all the damn plans?  My feet hurt in the cute wedges I had on and they weren't conducive for mall walking, so my first detour was Payless Shoes. I found cute flat sandals on sale for $10, that matched my outfit! They came in black for the same price so of course I bought them too. $20 plus tax later, I encountered my first true sidetrack. Anna's Linens was having a going out of business sale! Hello, this was the weekend I was decorating and I needed a large wall clock. $70 plus tax later, I had my beautiful wall clock, 2 large standing metal vases in a matching accent color to the clock, 2 bunches of dried flora to go in the vases and a lovely small box also in another accent color to the clock. I had to carry all the household stuff and new shoes to the car before I could go back to complete the errand that took me to the mall in the first place. I got home and in the mail were my two $100 Visa reward cards from AT&T Uverse! I hit up the local K-Mart with a friend for picture hanging material. I left there with a fantastic cranberry area rug, placemats with color designs that tied the clock and area rug together, square linen baskets for my open shelves, a fabulous hurricane lamp, scissors, etc, etc, etc.
Oh, have I forgotten to mention how FRICKIN hot it was this weekend, starting with Friday? Seriously, it was 107 degrees on my drive home from the mall. Saturday was no better. It was definitely too hot to hike, no matter how early we started. So I suggested and  my new friend agreed, that we meet at a local park where we can follow the paths around it several times to get at least a mile or so in before the heat really kicked in. The park has some shade as well along the paths. After walking, I made it to Yoga class. Afterward I met some friends for a late breakfast, then got talked into a trip to Goodwill (God help me, please). I got out of there with a lovely squat vase in yet another accent color to the fabulous clock (!) and a woven basket, total out the door was $4.98. I went home for what I thought would be a short nap and then some serious picture hanging and decorating. Instead, I slept on and off until right after 6 p.m. I had dinner, went to a meeting, hung out with friends and I was back home for bed after 10 p.m.
Then it was Sunday morning. Baby Bub's ferry left at 11:55 a.m. and we had to be there at least 20 minutes prior or they wouldn't let her redeem the ticket waiting for her. We thought an hour and a half would be enough time. It would have been if there hadn't been a traffic accident at San Clemente which caused considerable slowing. Baby Bub kept checking the estimated time of arrival on the map application on my phone. It kept getting longer and longer until I told her she needed to stop looking at it. The tension and stress level was high in the car. She and I often do not communicate well in the best of circumstance, imagine how well it was going then. I hate that about our relationship, truly. It feels like I'm being clear or she feels she is being clear, but either we're not clear or we're not listening very well. I suspect its a little of both on both our parts and something that certainly won't get fixed during a car ride. We got to Dana Point Harbor, only she didn't put in the actual address for the ferry so we ended up at the wrong area. We pulled up to the correct launch area well past the 20-minute window, but they allowed her to redeem her ticket and she was off to Catalina Island for a week as a volunteer camp counselor.
With all the tension and stress from the ride up to Dana Point, my  head started in on me about all the OTHER plans I hadn't gotten to this weekend. I hadn't paid any bills but was spending money left and right. I hadn't hung up any pictures or put any rooms together. I hadn't gone  hiking. I still hadn't gotten an oil change for my car. I haven't made my 9th Step amends to Baby Bub because I'm scared that our communication issues will blow up in our faces. I was doing a serious number on myself and feeling like an irresponsible, procrastinating piece of shit. As I drove along I-5, I saw the ocean to my right. I don't really like the beach. I hate sand, it gets everywhere, and I don't like the smell of the ocean either. However, I do love looking at it and listening to it.  The color and the waves are so soothing. Plus once I hit the interstate, the ocean was down a cliff and far away. When I saw a sign that said Viewpoint in 4 miles and Rest stop in 7 miles, I knew I had to pull over. I had to get out of my car and out of my fucking head!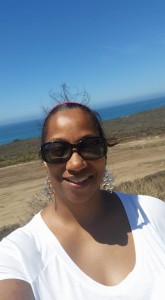 Standing at the top of the viewpoint I closed my eyes and breathed for several minutes, ignoring the other people who had also stopped. This was my view point, my calming moment. A wave of emotion came over me as I started to soothe myself. I realized I had done plenty  and the weekend wasn't over yet. I would continue to get things done, whether it was according to plan or not. There were a few other things frustrating me of late, but I let those go. I released them to the air and the ocean below. I smiled all the way deep down where I lived. I opened my eyes, took a few pictures of the view and took a few pictures of myself in front of the view. I stopped 4 miles down the road to use the restroom, took in the view there too and appreciated the 83-degree weather.
You know what? I also stopped to get lunch because I was hungry. When I got back to town and its lovely 106-degree temperature, I headed straight for an oil change. At home, I put up the clock, decorated my writing space and put some other stuff up around the house. I ate some dinner and went to a meeting. When I got back home I paid bills and went to bed. I didn't do all I planned, but I got some of it done! The truth is I used to be really irresponsible with my money and my time, creating all manner of problems. But that isn't me anymore. Sure I get a little sidetracked but things get done at a pace different than I imagined. THAT'S OK!